How to protect a wooden floor? We answer!
---
Wooden floor should be reliably secured by using an appropriate preparation. Thanks to this, it will not destroy or change color. A wooden floor requires an appropriate finish, because thanks to this process we reduce the natural penetration of the wood, make it resistant to unfavorable sunlight and prevent any contamination from penetrating deeply into its structure. Safe wooden floor it is easier to keep clean, it can have different intense colors - depending on the interior. Thanks to the use of appropriate measures, we level the structure of the wood, bring out its natural scratch or, on the contrary, mask it. It should be remembered that before applying any preparation, the floor should be sanded first.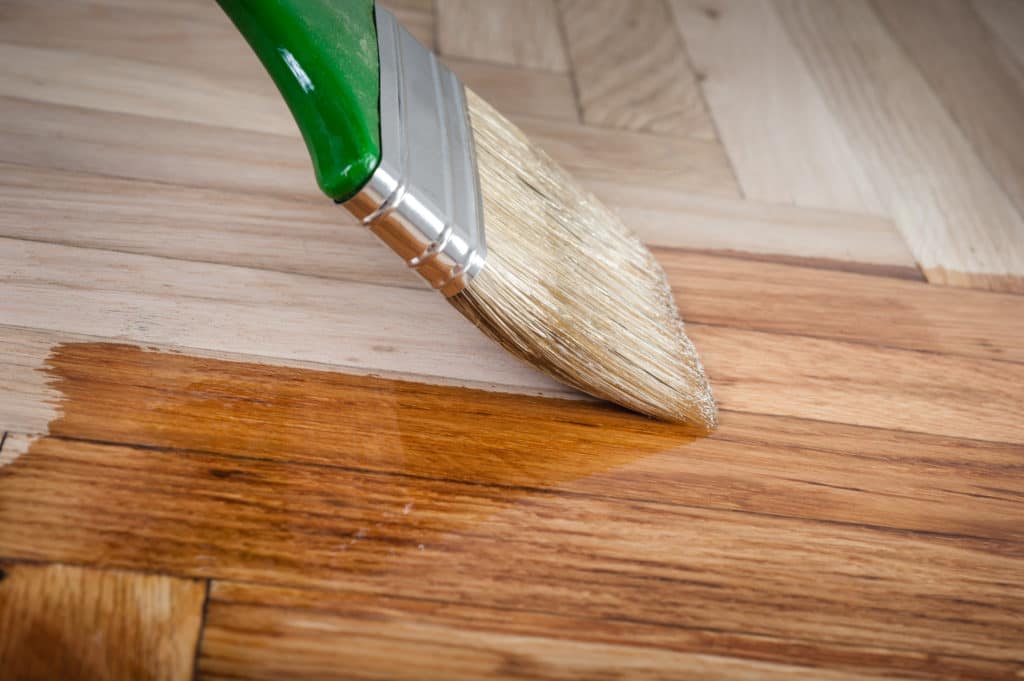 Staining or painting
Stains and paints they are mainly used to change the color of a wooden floor. Staining makes the wood acquire a specific color without creating a top coat, which makes the grain scratch visible. The more layers of the stain are applied to the wooden surface, the darker the effect will be. Staining in addition to dyeing, preserves wood. This process, after drying, requires the use of varnishing to reduce the wood's susceptibility to dirt and water absorption.
Painting the wood makes it covered with paint, which constitutes a layer of opaque coating, almost completely masking the natural scratch of the boards. Two types are used: water-based and solvent-based. The first ones are among the less harmful - which translates into shorter durability. The paints can create a gloss, matt or semi-matt effect. Most paints require a primer before application.
painting
Lacquer we use to protect wooden floor against moisture and to create a hardening layer that will protect the wood from damage and keep the floor clean. First, we apply a base varnish that cuts off the natural juices of the wood and reduces its absorbency. The next stage is the application of the basic varnish (matte, semi-matte or glossy; colorless or colored). These preparations are based on water or solvents and are available in one or two components. The latter form a more durable shell, but require the connection of components.
We distinguish varnishes:
polyurethane
acrylic-polyurethane
acrylic
urethane
alkyl
Urethane alkaidowy
epoxy
Oiling or waxing
Oils and waxes are natural, colorless wood impregnating agents. Color pigment can also be added to them. This type of wood protection requires frequent maintenance, however, thanks to their use, the wood allows it to breathe and at the same time protects it against water penetration. An extremely important aspect before oiling a wooden floor is its prior alignment, because this process emphasizes every curvature.
Natural oils they do not contain any chemical additives and they impregnate the wood in a basic scope. Stronger than them are oil-waxes that give a velvety shine and a slippery coating. Even stronger are oils with resin, which adhere to the wood even more closely and do not require frequent renewal.
Alternatives to oils are waxeswhich create a coating that makes the wood resistant to dirt and protects it from moisture.
---
29 April 2020 - Care
Tags: staining, painting, painting, oiling, preparations, immunization, waxing, security